Have you seen Cloud9 Fabrics? They are organic and dyed with low-impact dyes. They are also adorable!
Their current line is called My Happy Garden. It was released in September and is still available in specialty fabric stores. Their new line,
Beyond the Sea
, is set to be released really soon and should be in stores the end of March.
When I saw My Happy Garden, I fell giddy in love. I love the colour pallet, but also the style. The birds, toadstools and clouds are great. I have to admit, I especially love the toadstools.
I found the fabric I purchased online at
Pink Panda Fabrics
. It is an online store based out of Toronto, which means no duty changes, and they ship
FREE
(within Canada) regardless of how much you order (if you are in the US, shipping is free if you spend $99 CDN). They also give you a discount depending on how much fabric you purchase, and all the Cloud9 fabrics happened to be on sale. I think it was meant to be.
I ordered my fabric almost immediately after seeing it. Even before I really thought about what I would do with it. At first I hoped I could make a quilt like this one:
But, it was a concept quilt for Cloud9 and no pattern was ever developed. Upon reading some comments on the quilt, I realised it was probably out of my current skill level to create my own pattern and get it looking nice. There was a lot of talk about cutting on the bias, etc. That just goes over my head.
I'm also positive I didn't order enough fabric to make that quilt. I only got ½ a yard of each. So instead of yet another quilt (how many quilts does a baby need anyways?) I've decided I will use the fabric to make a bunch of smaller projects.
Perhaps some
baby bibs and burp cloths
: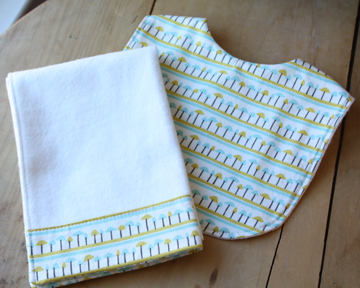 a
baby beach ball
:
I also want to set some fabric aside to eventually make a bug jar quilt. Have you heard of them?
Google the terms Bug Jar Quilt and you will see a lot of different examples, as well as free patterns for creating the bug jar quilt block. I like the quilts with different size bug jars and books. Too cute.

Any other pattern suggestions for me? What would you make with great fabric like this?
PS. Photo credit goes to the designers of the mentioned projects, links have been provided.